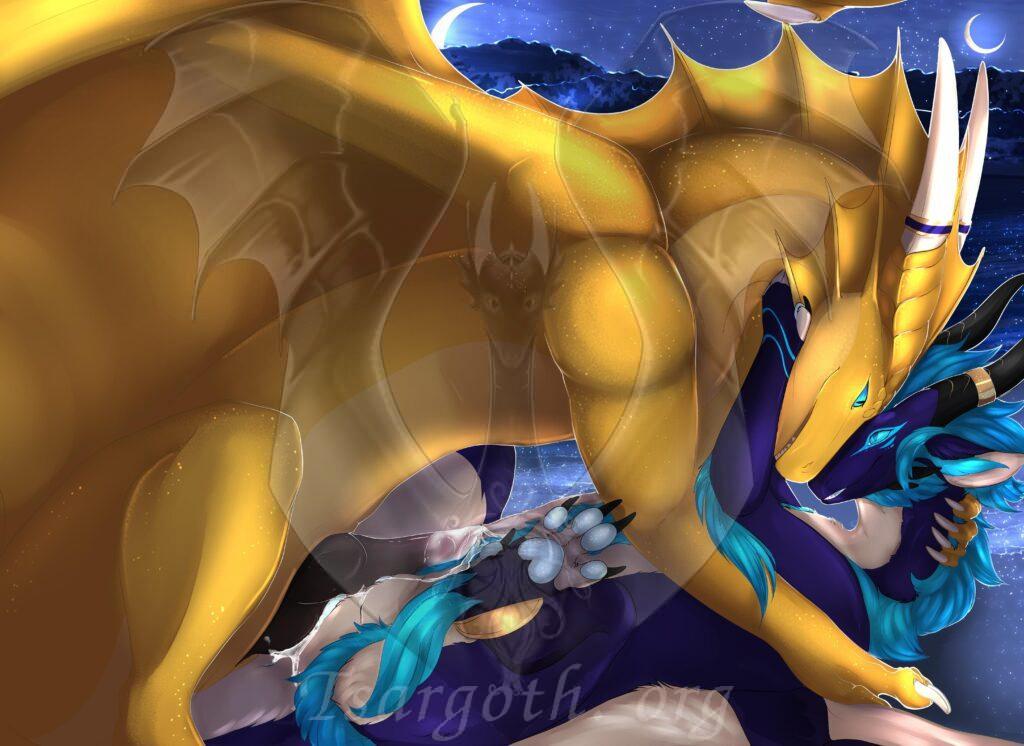 He leaned over her gazing lovingly into her eyes as she lay beneath him on the beach. The sounds of the waves crashing just next to them. On her back she gazed up to him lovingly spreading her hind legs wide presenting herself to him, ready for him to claim her. She is so lovely, so perfect. Everything about her makes him love her more. Every fiber of his being needs her and his body only naturally reacts with his dragonhood emerging. His head pressed gently to hers keeping their gazes locked. His fore paws gently cradles her neck as the rest of his form surround her, protecting her. She is his mate just as much as he is hers.
His dragonhood throbs needingly above her, just a touch of his strange lubrication faintly glowing beneath the starlight light. Its twin already buried within her silken walls caressing him so perfectly in a way only a lover can. As only she can. Will she give him more eggs?
"I love you my aoreban" He murmurs to her as rocks himself against her panting lightly his member stroking against her fluff between her teats with their continued rhythm. "K'ieo sebeo" he whispers between panted breaths. "My Embyr. My mate."
With their gentle dance continuing his body begins to tingle and the growing sense of urgency and a need to be closer.
"Oh Aoreban~" he gasp tensing momentarily his whole body shutters holding her tightly against him. Ropes of seed spill over and into her. Her depths clench against his member drawing in his essence.
"A'meo" she churrs tugging against his earfin.